Providing Continuing Education for Louisiana Arborists



The annual conference was held at the Baton Rouge Marriott Hotel on 26 January 26, 2002.
Over 150 arborists and guests were in attendance for the ArborMaster Training conducted by
Mr. Ken Palmer, President and CEO of ArborMaster Training, Inc.
Chairman of the ISA International Safety Committee, Chairman of the ISA International Tree Climbing Competition and a 3 time International All-Around Climbing Champion, Ken presented information on safe climbing, advanced chainsaw handling and practical rigging.
Take a look at these pictures of the conference and make plans to join us next year!
Click on any image to see it full size. Use your BACK button to return to this page.

Louisiana
Arborist
Association

Annual Conference 2002 Featuring Ken Palmer
Arbor Master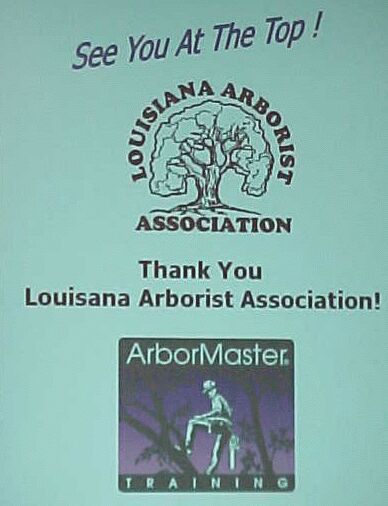 ---
HOME | PURPOSE | MEMBERS | OFFICERS | TRAINING| INFO | LINKS | E-MAIL>


Louisiana Arborist Association
P.O. Box 41396
Baton Rouge, LA 70835-1396

Copyright © 2005
Website by aVe